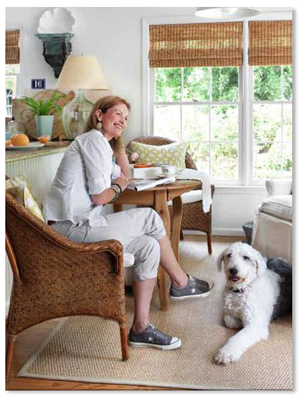 Today's home is both storyteller and the canvas upon which the story unfolds… reflecting how we live and play as well as what we treasure. For 14 years, Sherry Hart has been helping clients tell their stories in Atlanta and well beyond the city limits. Her goal is a design that truly reflects the needs, desires and 'voice' of their clients. Her process is simple…
LISTEN with the aim of creating a space that is tailored to the desires and experiences of each client.
CREATE an environment that reflects personal taste and lifestyle.
DRAW from the environment to create a casually elegant setting that is rich while being warm and livable.
"UPCYCLE" by re-purposing existing treasures to personalize space and provide timeless appeal.
Sherry (pictured left) resides with her husband in Buckhead, drawing energy from her adopted sheep dogs and inspiration from the beauty of the natural world around her.
Click here to follow my blog, Design Indulgence.